Healthcare Providers
Weight bias exists in health care settings, causing harm for patients who have a higher body weight. Research studies show that patients with obesity face biased attitudes from physicians, nurses, psychologists, dietitians, medical students, and even professionals who specialize in obesity. Some professionals within these groups perceive patients with obesity to be lazy, lacking in willpower, unmotivated to improve health, and noncompliant with treatment.  When patients feel judged or stigmatized about their weight, this can lead to lower trust of their healthcare providers, poorer treatment outcomes, and avoidance of future health care.
The Rudd Center has developed free, online educational resources for health care providers to help improve the quality of care for patients with obesity and reduce weight bias in clinical practice.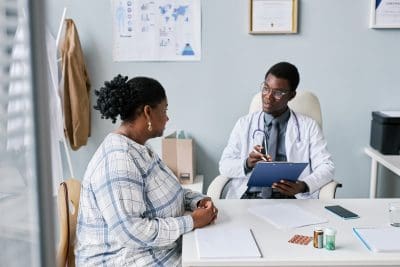 Video: Weight Bias in Healthcare
The Rudd Center has produced an educational video to educate healthcare providers about weight bias. Research evidence suggests that using this video as an educational intervention may be effective in helping to reduce stigmatizing attitudes among students and future healthcare professionals. Specifically, researchers found that trainees who viewed the video and engaged in a discussion increased their beliefs that obesity is caused by multiple factors (and not simply under personal control), and decreased nega­tive stereotypes about patients with obesity. These videos are owned by the Rudd Center. We welcome you to use the videos in trainings and presentations and link to this web page.