School Meals
School cafeterias are the centerpiece of the school nutrition environment. Rudd research supports efforts to remove unhealthy snacks from schools in terms of nutrition and finances; prompt students to take a piece of fruit with their school meal; and remove flavored milk.
Our research on the National School Lunch Program has shown that the changes associated with the 2010 Healthy, Hunger Free Kids Act have made significant improvements in the school nutrition environment. Thus, rolling back the regulations is unwarranted.
Key studies have found:
Plate waste did not increase as a consequence of the Healthy, Hunger Free Kids Act
Students support efforts to improve the food in schools
Students who eat two breakfasts have a healthier body weight than students who skip breakfast
Students increase consumption of plain milk two years after flavored milk is removed
Students consume more fruit and milk when 100% juice is not offered
Removing competitive foods is associated with increased meal participation.
Currently, the Rudd Center is involved in a collaborative of researchers from across the United States called "Healthy School Meals for All." This team, which is led by the Nutrition Policy Institute (NPI) at University of California, Merrimack College, the Rudd Center, the University of New England, Boise State University, Stanford University, and Arizona State University, is examining the impact of Healthy School Meals for All policies on school meal participation and food security.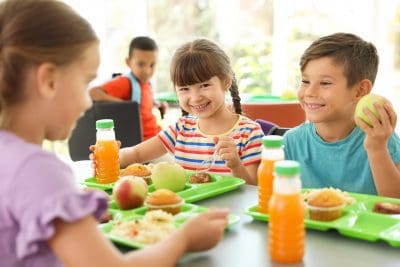 Key Studies
Connolly K, Babbin M, Schwartz M. Feeding Connecticut Children During COVID-19: Stories of Dedication, Innovation, and Collaboration From the Field. Rudd Report for State Department of Education. 2020 October 1-37
Schwartz M, Henderson K, Read M, Danna N, Ickovics J. New School Meal Regulations Increase Fruit Consumption and Do Not Increase Total Plate Waste. Childhood Obesity. 2015 March 1-6
Asada Y, Hughes A, Read M, Schwartz M, Chriqui J. High School Students' Recommendations to Improve School Food Environments: Insights From a Critical Stakeholder Group. Journal of School Health. 2017 November Vol. 87, No. 11:842-849
Wang S, Schwartz M, Read M, Henderson K. School Breakfast and Body Mass Index: A Longitudinal Observational Study of Middle School Students. Pediatric Obesity. 2016 March 1-8
Schwartz M, Henderson K, Read M, Cornelius T. Student Acceptance of Plain Milk Increases Significantly 2 Years after Flavored Milk Is Removed from School Cafeterias: An Observational Study. Journal of the Academy of Nutrition and Dietetics. 2017 July 1-8
Boehm R, Read M, Schwartz M. Juice Displaces Milk and Fruit in High School Lunches. Journal of Nutrition Education and Behavior. 2018 September 1-6
Boehm R, Read M, Henderson K, Schwartz M. Removing Competitive Foods v. Nudging and Marketing School Meals: a Pilot Study in High School Cafeterias. Public Health Nutrition. 2020 February 23:2:1-8